Achievement
Trainee uses web tools to enhance communication and collaboration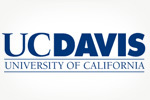 Project
IGERT: REsponding to RApid Environmental CHange (REACH): From genes to ecosystems, science to society
University
University of California at Davis
(Davis, CA)
PI
Trainee Achievements
Trainee uses web tools to enhance communication and collaboration
Trainee Noam Ross uses web-based tools to enhance communication and collaboration. He uses a blog as a publicly open lab notebook. In his work in forest disease, Noam is working with the Forest Service to create interactive tools for the public based on ecological models. This winter, he participated in a workshop with Federal and Native American landowners on making disease models of greater use to managers.

Ross created the Davis R Users' Group, a programming skills support group which meets weekly for presentations and Q&A time for students using R for their work. Members are from ecology, evolution, geography, genetics, engineering and veterinary departments. He and REACH trainee Rosemary Hartman have made presentations about modeling tools. Ross also posts presentations online where they are used by students at other universities.

Noam created a guide to the many statistics courses at UCD that includes content, comments and student ratings used by faculty advisors and students.
SEE MORE: