Achievement
Course aims to provide insight into starting new ventures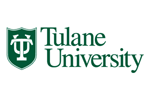 Project
IGERT: Bioinnovation through the development of novel biological delivery technologies
University
Tulane University
(New Orleans, LA)
PI
Education Achievements
Course aims to provide insight into starting new ventures
This semester, our IGERT trainees are participating in the course SCEN-6000-01: "Entrepreneurship in Bioscience: A New Way of Inventing" that aims to provide insight into the skills needed to start and develop a new venture. They are learning the basic elements of a new venture feasibility study with midterm and final projects that focus on the composition and presentation of a completed business plan that highlights business strategy in science based industry. For their midterm projects, our trainees focused on the following:
-D Dashti: development of stem cell tissue engineering therapy to treat Barrett's esophagus
-K Kosakowska: creation of a cord blood bank in New Orleans to collect and supply blood-forming stem cell treatments derived from umbilical cord blood.
-N Pashos: establishment of a nonprofit company offering a long term, secure cold storage facility for important biological or pharmaceutical samples.
SEE MORE: